Fall Wedding Flowers
September 21, 2012
It is hard to believe that the fall wedding season is once again upon us. While all weddings can be elegant, romantic and beautiful, there is a certain charm to a fall wedding that is unlike any other. Part of that charm is the warm, rich hues that go along with a fall wedding. There are many options for beautiful fall wedding flowers, and they are not all the typical choices.
Bouquets
When it comes to fall wedding flowers, many think only of the orange and red hues associated with that time of year. While those colors certainly have a place at a fall wedding, there are other options as well.
One lovely choice for fall wedding flowers for the bride is off white roses. A full bouquet of this flower looks amazing next to the white of a wedding gown with the rich hues of fall playing in the background via the bridesmaid's dresses and the floral decorations.
Another option is to use accents, such as pinecones and greenery to bring the fall theme to the next level. Also, for brides who want color, there are other beautiful options besides the typical red, oranges, yellows and browns.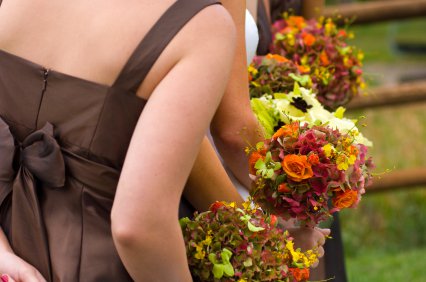 Consider a burgundy or purple colored bouquet. Some brides choose a solid color bouquet while others select burgundy flowers, such as Snapdragons, burgundy Dahlias and miniature burgundy Calla Lilies, or purples flowers, such as Glory-of-the-Snow or Grape Hyacinth, to accent off white flowers, such as Sweet Pea, off-white Roses or Calla Lilies.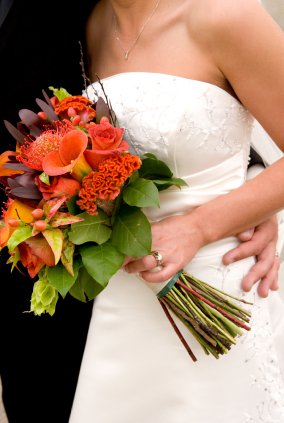 Centerpieces
For fall wedding flower centerpieces, consider adding visual interest to your selected flowers by including a candle, pine cones or even pumpkins. Some brides try to save a bit of money on the centerpieces by having a candle or hurricane lamp serve as the main feature and then using fall wedding flowers as accents.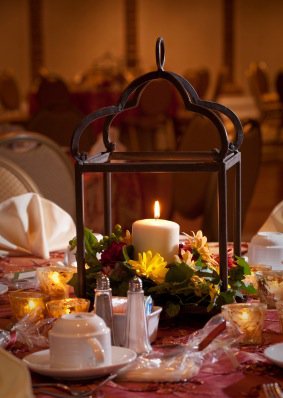 For the most up-to-date fall wedding flowers, visit a florist who keeps up with all of the latest trends. Petals by Xavi is one of Orange County Mining Company's preferred vendors. They offer event planning and floral design services. With five locations, they cater to every need the bride has concerning bouquets, floral décor, centerpieces and more. The designers at Petals by Xavi are the best in the business and they take the time to keep up with the latest trends and ideas in floral design and wedding planning.
Some Orange County wedding venues provide amazingly beautiful backdrops for a fall wedding. Imagine your fall wedding flowers against a backdrop of rustic wooden walls and beams with a wall of windows overlooking twinkling city lights. Orange County Mining Company can work with you to make sure that your fall wedding and reception is even more beautiful than you imagined.